Landscape Planning and Design

" Before you build... Envision it!" TM

505-459-6570

(Mouse-over renderings to enlarge them.)
---
We design-render landscapes for both residential and commercial clients. Our data base includes over 6,000 plants, trees, and shrubs, including xeric species, which can all be resized/aged. We can even incorporate survey / GPS terrain data. Additionally, we render the exterior of the home and add features such as decks, patios, swimming pools, tennis courts, ponds, etc. We also incorporate actual background views from the property. Below left is one example of a rendering we did for a client to enable him to visualize changes to their landscape through their windows. On the right is another client's virtually landscaped yard, including a new pool, superimposed on their actual background view.
360 degree view - Click upper right corner for full screen (Esc to return), then click mouse to drag, and zoom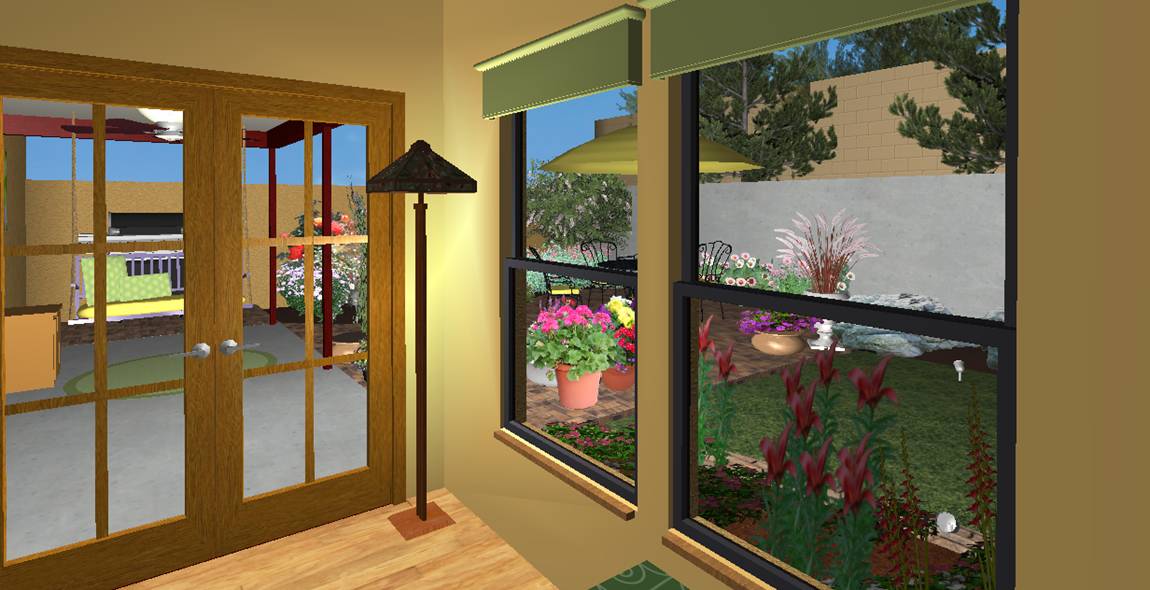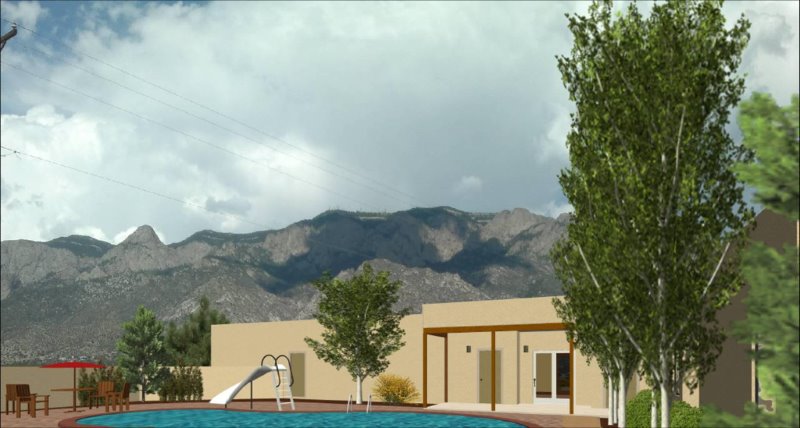 Our customers have been completely delighted with our services. After virtually "breaking ground," they are eager to go forward and get their projects done. And of course, their landscapes come out just like they envisioned!
"On-Site Landscaping". Envision can incorporate home and landscape rendering directly onto the property's site to enable the homeowner (and an approving homeowners neighborhood association architectural committee) to see how it will look in the actual setting. Here's an example of our recent work on a home in Sandia Heights…
Here is the home as it currently looks, next to the 2D Landscape Plan, including the remodel floor plan for the ground level: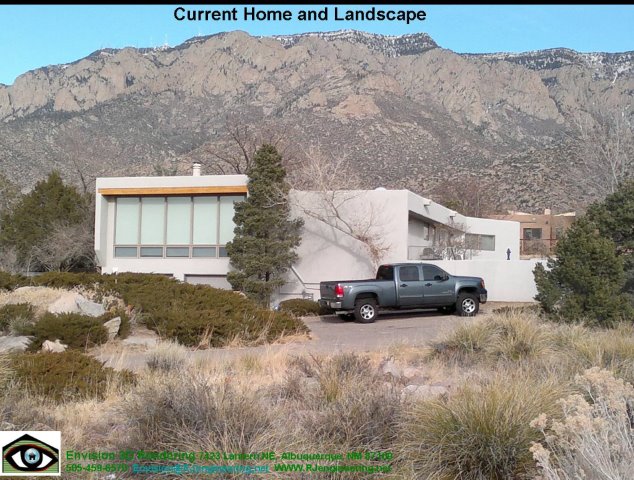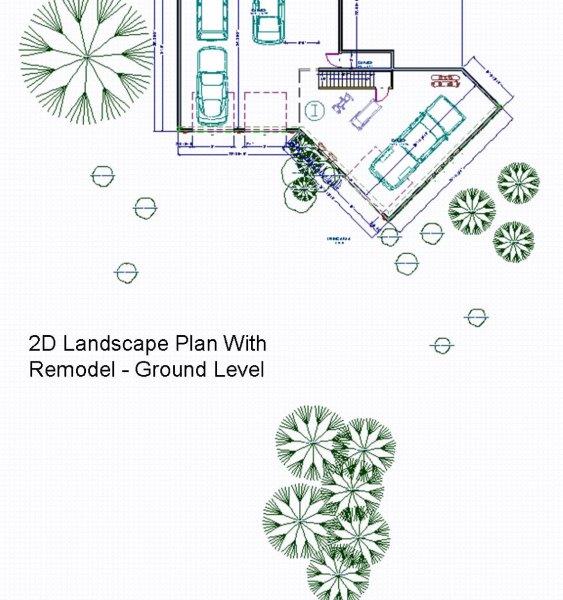 Here is the rendering of the new landscape and the home (in the planned remodeled state) in the actual setting; to the right is a landscape-only rendering (client may choose to simply "soften" the exterior of the home with additional landscaping) -- again, in the actual setting.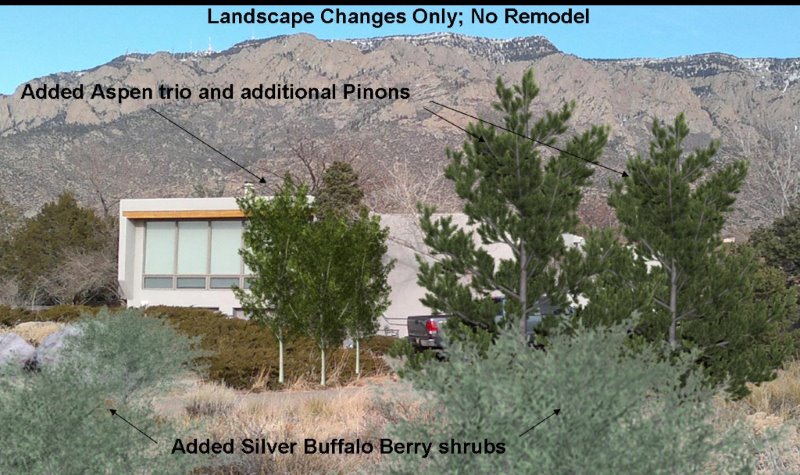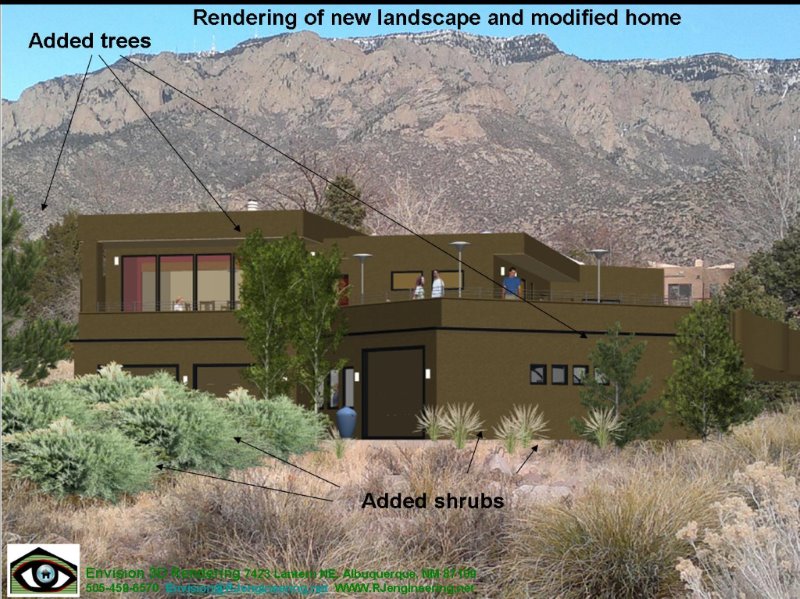 ---
| | |
| --- | --- |
| Front Yard Transformation That Pops! | Landscaping is an area where our clients can often be completely at a loss regarding what they want. But oftentimes, they are very clear on what they DON'T want: their CURRENT landscape! Such was the case with the Barnharts, so first-things-first, out came the existing front yard--all of it. Envision 3D was thus presented with a completely blank slate. We worked around several design constraints, including: the client's desire for an additional parking area that would blend well with one previously installed; the need to keep planter soil away from the home's brick walls; and the request that an area remain accessible for sprinkler valve and water main access. We came up with a design that "works" on many levels. The landscape integrates beautifully with the home's exterior and even gives it a modest facelift using stacked stone. It also features, at the owners' request, low-maintenance garden beds dominated by xeric plants. At the same time however, the planting design "pops" with color and variety and results in a landscape that distinguishes the Barnhart home on the block. |
| | | |
| --- | --- | --- |
| Before | 3D Design | Constructed |
---
"Previewing"

A High-End Landscape

This client wisely chose to see his landscape contractor's design in 3D before moving into the construction phase. Working with Envision 3D the client was able to visualize the actual plantings (in their nursery-stock size, as well as at maturity) and their placements with respect to the home's design and window views. He also worked with us in 3D to virtually "build" the hardscape structures beforehand. This process enabled the client to make many changes to plant selections, as well as to finalize the look and scale of the hardcape features. He also used used Envision 3D's images to get approval from the neighborhood's architectural committee. He then entered the construction phase with confidence. This beautiful landscape is now complete and is being thoroughly enjoyed. Final photos are forthcoming.
3D Design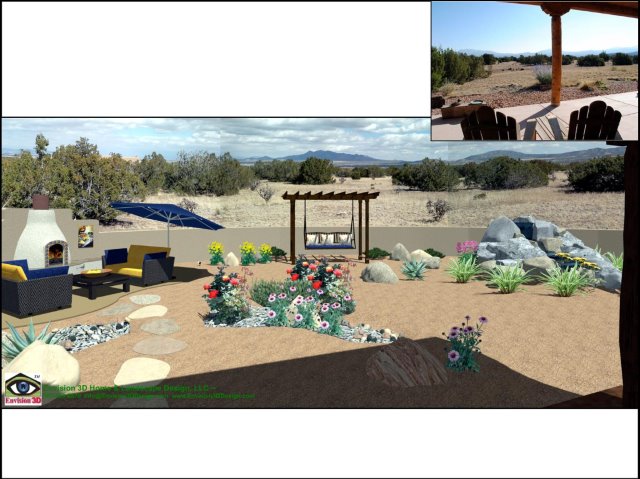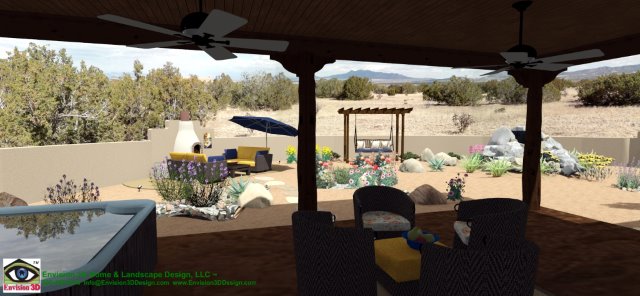 These are renderings, not photographs!
---
| | |
| --- | --- |
| A New Xeric Oasis! | The final design is a xeric oasis, providing shade and privacy with a site- and microclimate- appropriate selection of hardy, low-maintenance, yet showy, plantings. The landscape has been thoughtfully designed so that its plantings and hardscape features provide a very much needed sense of enclosure in the back and side yards. Outdoor "rooms" include a "shaded retreat" in the hottest corner of the yard, making it a secluded destination with comfy seating and a cozy fire pit, rather than a spot to be avoided. Other spaces are fully suited for entertaining, including an outdoor kitchen with a bar counter and stools on the opposite side, as well as a more formal dining area. On the latter, note that the dining set used in the 3D renderings of the patio area is perfectly proportioned with the client's existing set. An outdoor living room completes the space, and includes an outdoor fireplace and even a television. Outdoor curtains help create needed shade and provide immediate privacy when desired. Construction is currently underway! |
Before

3D Design

(These are NOT photos!)
---
| | |
| --- | --- |
| "Nothing But Dirt to Everything We Wanted" | The final design provides shade and privacy with a site- and microclimate-appropriate selection of hardy, low-maintenance, yet showy, plantings. Flowers are all perennial, so as to provide continual color, yet minimize work for the client. Trees and shrubs—both evergreen and deciduous were carefully selected and placed to provide needed shade, as well as wintertime greenery and structure. In the center of the yard, comfy yet contemporary seating and a cozy fire pit are punctuated by artisan-made wire-sculpture lighting spheres. Along the western perimeter wall, a trio of large-scale planters provide a dramatic focal point that add visual interest and hold sculptural xeric plants. The enclosed patio extension is perfectly suited for family use and entertaining with an outdoor kitchen (there's even a space to stash the client's smoker), bar counter and stools on the opposite side, as well as a dining area. A mini-soccer area was also desired by the client, the play zone includes a playset and a hopscotch. We can't wait to be invited over for Margaritas! |
---
| | |
| --- | --- |
| Mariposa Parade of Homes Landscape | The final design is a xeric oasis that employs site- and microclimate-appropriate selections of hardy, low-maintenance, yet showy, plantings. Flowers are all perennial and annuals that naturally reseed, so as to provide continual color, yet minimize work for the client. Trees and shrubs (both evergreen and deciduous) have been carefully selected and placed to complement the home's modern-Zen aesthetic, as well to provide wintertime interest and structure. Many of the plants are native to southwestern New Mexico; others are perfect complements to our high-desert climate and environment. |
---
| | |
| --- | --- |
| A 26-Year-Old Backyard Refreshed | The owner of a townhome wanted her 26-year-old backyard landscape to be completely refreshed. The hardscape itself was in very good shape and was originally well designed. Keeping it fully intact, Envision 3D's Master Gardener completely reworked the planting beds by adding new, mostly xeric varieties of plants and shrubs in place of those that were "spent" and/or inappropriate for the space. Also, many of the existing plants were reused. A number of the plants and shrubs were virtually "aged" into the future to enable the homeowner to appreciate their eventual size and impact on the space. We also added a patio fountain and coordinating plantings on a formerly bare wall next to the patio. The result was a well-designed, maintainable new look to the yard, totally infused with new energy and color. Of course, this client received a complete listing (a "plant legend") of all plants (new and old), as well as suggested soil amendments and mulch materials (including quantities). At this point, she put the job out for bids and found a contractor who installed the new plantings for a very reasonable price. |
---
| | |
| --- | --- |
| Beauty and Functionality: Envisioned | Rare is the homeowner who would not like to have a nice landscape around their home; however, few can envision it. This is not helped by the fact that the typical landscaper will often present, at best, a two-dimensional plan (lots of symbols, including the little star and cloud shapes for trees and plants). Compounding the problem even further is that even a master gardener can be pressed to know plant names and what they look like. This homeowner was no different. With the help of our Master Gardener, Envision 3D virtually transformed this plain back yard into a wonderful outdoor space that is tailored to the homeowner's needs and desires. The result is a vision of beauty and functionality in a most practical and affordable design. We were also able to "age" the plants and even show the homeowner her new yard at night. |
Before

3D Design

3D Design Overview

3D Design Night View
---
| | |
| --- | --- |
| A Master Gardener's Yard | Every good gardener knows that his/her "outdoor rooms" are spaces that evolve over time - and that are enjoyably enhanced and "rearranged" each season. Our staff Master Gardener is no different and decided to use Envision's services to render the various yards in her landscape for planning (and dreaming!) and design purposes. We have captured the feel and detail of each of outdoor space - in most every case, down to the exact plant species, accurately sized. Now, this client can do "virtual" transplanting, move landscape features around, as well as try out new plants (even see what those spring annuals and bulbs will look like, to take advantage of those fall catalogs!) and tree additions. All this, no matter what the weather or time of year… An upcoming improvement - landscape lighting, is being carefully designed to highlight the lovely plantings, as well as the outside of the home, come nightfall. |
| | |
| --- | --- |
| 3D Design | Actual |
---
| | |
| --- | --- |
| A Landscape Transformation | The owner of this backyard had long dreamt of making it a place that he would enjoy year-round, but with very little maintenance. Rather than turning directly to a landscaper and "blindly" investing in a one-dimensional plan (and not being an expert on plant names), this client came to Envision for help. He wanted to see what he was going to get in 3D. It was very helpful that this client had identified a candidate design in a magazine that he really liked, although he had no idea if it would work. Using the picture and the expertise of our Master Gardener, the design was adapted for the local climate, easy maintenance, and the size and orientation of the client's lot. The result was a complete landscape plan that would be perfect for obtaining bids from landscapers, as well as guiding the work. Rendered in 3D, the client could actually see what all of the plants, trees, and structural components would look like. We even "aged" the plants - first to the sizes that would be initially brought from local nurseries and then to their sizes after two to three years. The transformation was amazing - and it was achieved at an amazingly low cost. |
| | | |
| --- | --- | --- |
| Idea | 3D Design | Constructed |
Envision 3D Home & Landscape Design, the Envision 3D Logo and the words,"Before You Build …ENVISION It!" are trademarks of Envision 3D Home & Landscape Design , LLC. All rights reserved.
All content copyright 2011 Envision 3D, LLC. All rights reserved. RJ Engineering Web Design