| | |
| --- | --- |
| Award-Winning Kitchen Makeover | Rizek Design & Remodeling , a very well-renowned contactor in Albuquerque, created this fantastic kitchen remodel in 2010. Company owner Tim Rizek called on the power of Envision 3D to render the design in richly detailed 3D and, as can be seen below, the rendering is remarkably realistic. The design received the Grand Award from the Albuquerque Remodeler Council, as highlighted in its 2010 Remodelers Council Guide to Home Remodeling. Says the feature article: "The homeowners wanted more; more natural light, more space, more storage and more excitement. The new layout had to incorporate a new office niche, natural and artificial light, improved traffic flow, formal and informal dining areas and most of all storage." |
3D Design

(This is NOT a photo!)

Constructed
---
Fantastic Views, Totally Gutted Interior

Now What?

When this couple came to Envision 3D, the capable DIYer husband had already demolished the dated former kitchen, dining, and living room of their recently purchased home down to the insulation. However, while the couple was in love with the home's amazing views and knew it had potential, they found themselves unable to visualize what the space's new design should look like, especially when it came to using what looked like limited square footage. Envision 3D went to work and created a beautiful new, contemporary kitchen that embraces the adjoining dining and living areas. Pre-selected granite, paint, cabinetry colors and wood flooring selections were all incorporated, which gave the couple confidence in how everything would look together. They loved the design immediately and are now working with us to refine the cabinetry layout and incorporate their actual furnishings.
360 degree view - Click upper right corner for full screen (Esc to return), then click mouse to drag, and zoom
---
| | |
| --- | --- |
| A Santa Fe Desgner Home's Kitchen | This client came to Envision 3D to take their initial design to the next level. The 2,800 sq ft project includes numerous rooms with unique design details. These beautiful photo-realistic renderings provide a vivid appreciation of the ultimate look and feel of thier kitchen. Coupled with a detailed floor plan (also created by Envision 3D), they are already greatly aiding the client in the contractor bid process. Other images from this home can be seen in Bathrooms and Entire Home/New Construction. |
3D Rendering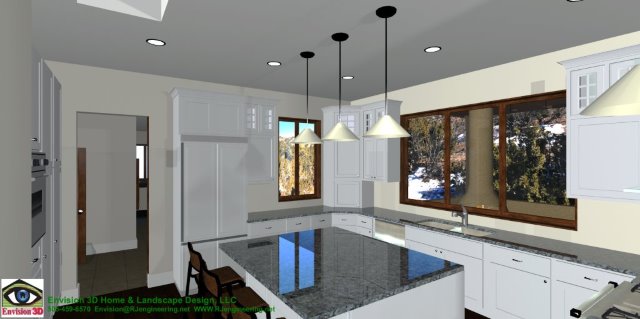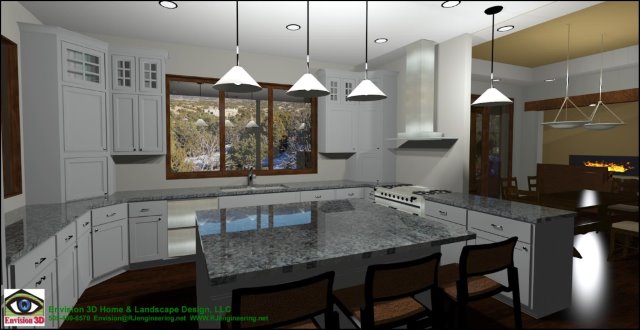 These are photo-realistic renderings
---
| | |
| --- | --- |
| A Fresh New Look From "Outside the Box" | The main objective for the remodel project were to create functional, attractive, and appropriate designs for a new kitchen, great room/dining room, and foyer. Designs emphasized complementing the home's existing ranch-style home style. Perhaps what was most interesting about this project as that the clients had already received 2 or 3 designs from other designers. Envision 3D was able to provide a fresh new look from outside the (design) box, and the clients loved it! |
360 degree view - Click upper right corner for full screen (Esc to return), then click mouse to drag, and zoom
Before

3D Design

These are photo-realistic renderings

Constructed
h2>
---
| | |
| --- | --- |
| An Outdated Kitchen Expanded and Transformed | The kitchen was completely transformed, starting with an expansion of its width by five feet. The small bay window was replaced by a much larger version with side lights,so as to bring in significantly more light. This larger, brighter space houses a well-appointed kitchen with an ample pantry, lots of additional counter space and storage, an efficient work triangle, and a large work-space island with plenty of storage of its own. The island also features an eat-in/watch-the-chef counter with stools at one end. The new honey-stained Alder cabinetry features recessed-frame drawer and door faces. Taking advantage of an HVAC redesign and the removal of overhead ductwork, the cabinetry now reaches the higher (formerly dropped) ceiling. The doorway between the Kitchen and the Dining Room is wider and open to the ceiling (pocket door removed). The existing tile is replaced with engineered wood in a medium-dark stain, as is used in the the adjacent Dining and Family Room/Informal Dining rooms. The room is illuminated in carefully spaced and placed, 6-inch recessed lights, under-cabinet puck lights, three traditional pendants over the island, and a coordinating traditional flush dome ceiling light over the sink. |
Before

3D Design

These are photo-realistic renderings

Constructed
---
| | |
| --- | --- |
| A New Kitchen for a Growing Family | During the bidding process, American Design & Remodeling (ADR) of Albuquerque turned their design over to Envision 3D to bring it to life in fully detailed 3D. ADR won the contract. Prior to construction, the homeowner was able to provide feedback so that the space could be optimized for the growing family's daily life. They were also able to make very specific design decisions about materials and cabinet design. In the end, ADR's client was delighted with the results. |
Envision 3D Home & Landscape Design, the Envision 3D Logo and the words, "Before You Build, ENVISION It!" are trademarks of Envision 3D Home & Landscape Design , LLC. All rights reserved.
All content copyright 2011 Envision 3D, LLC. All rights reserved. RJ Engineering Web Design