Before

3D Design

(These are NOT photos!)

Constructed
360 degree view - Click upper right corner for full screen (Esc to return), then click mouse to drag, and zoom
---
Santa Fe Designer Master Bath
This client came to Envision 3D to take their initial design to the next level. The 2,800 sq ft project includes numerous rooms with unique design details. These beautiful photo-realistic renderings provide a vivid appreciation of the ultimate look and feel of this beautiful Master Bath. The client needed additional square footage for a suitable Master Bath design that would match the elegance of the rest of the home. They turned the design over to Envision 3D and were thrilled. Coupled with a detailed floor plan (also created by Envision 3D), they are already greatly aiding the client in the contractor bid process. Other images from this home can be seen in Kitchens and Entire Home/New Construction.
3D Design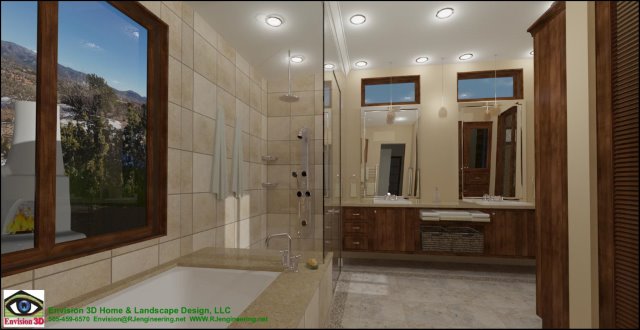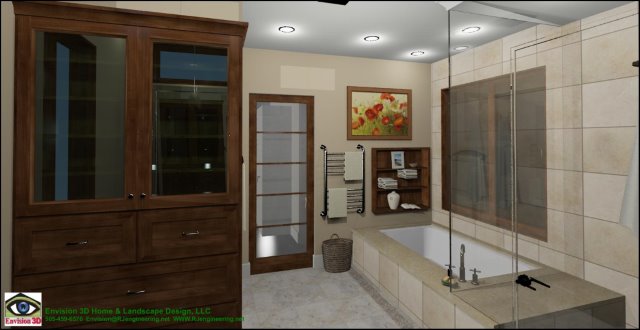 These are photo-realistic renderings
360 degree view - Click upper right corner for full screen (Esc to return), then click mouse to drag, and zoom
| | |
| --- | --- |
| Design-Forward, Coordinating Baths | While this remodel would not involve any significant plumbing or structural changes, the owners (a couple) initially had difficulty agreeing on whether to go forward with this project. The wife pictured a very significant aesthetic redesign in her head; the husband had difficulty "seeing" it, much less making the investment. The remodel would involve numerous, unique applications of design-forward materials and components, as well as highly customized cabinetry. In addition, new functionality was to be achieved in some very tight spaces. With vividly detailed renderings, the other spouse was able to clearly picture the new space and really liked what he saw. The couple agreed to go forward and the renderings were used throughout the process by the homeowners, the contractor, the plumber, and the cabinet-maker. The result: a pair of gorgeous, coordinating new bathrooms for a very happy couple. |
Master - 3D Design

(This is NOT a photo!)

Hallway - 3D Design
| | |
| --- | --- |
| Master Bath | The master bath remodel brought light into the shower and tub area by the use of glass blocks in a beach-style shower and a tub-side "window" that brings light in from the atrium on the other side. The mosaic (custom-made) that was being considered for use on the tub wall was rendered with perfect accuracy and was confidently selected at that point. Additionally, as a surprise for her husband, the wife had the somewhat "risky" idea of putting mural of Hawaii in the shower. We were able to find and identify the actual photo that she had in mind, accurately place it, and enable viewing from various angles inside the shower. She went forward with the idea and the couple was delighted with the visually stunning result. |
3D Design

(These are NOT photos!)

Constructed
| | |
| --- | --- |
| Hallway Bath | The guest bath redesign utilized a number of complementary design elements from the master bath. However, as is the case with most guest baths, the space was small. Our renderings enabled the owners to picture to-the-ceiling tiling (with variations on pattern and pencil trim details), a towel warmer recessed into the wall, and cabinetry that would maximize storage, but not make the vanity area feel cramped. These features were "played with" using the rendering process for just the right effects. A design was achieved that evoked luxury, even in a small space. |
| | |
| --- | --- |
| 3D Design | Constructed |
---
Award-Winning Bath Redesign--A Small Miracle
Once again, in a sweep of the Albuquerque Remodelers Council's Grand Award category, Rizek Design & Remodeling, took the award for this bathroom remodel. With only 400 square feet to work with, they had to provide all the amenities of a master suite, plus an area to house a stackable washer and dryer. They came up with a plan that included everything on the client's wish list: an adjoining bedroom, full bath with dual vanities, walk-in closet, commode room, and mini laundry room. Envision 3D's realistic rendering illustrates how well we can validate design feasibility in terms of functionality and use of space. We also captured the aesthetics flawlessly.
| | |
| --- | --- |
| 3D Design | Constructed |
---
Master Spa Bath Dated 80's to Contemporary Zen
For some time this busy mother of three had longed to transform her dated master bathroom (think Hollywood make-up lights, Formica, and bleached oak cabinetry). The bathroom was also cold and well worn with use. The bad design made poor use of the space by placing the tub across from a dysfunctional closet and included a oddly spaced dark master closet. Envision 3D performed a transformation miracle with minimum movement of walls. The new space features a fabulous, luxurious wet room with a beautiful Teak deck corner tub, and two rain fall showers, each with their own hand showers.

The final design for the Master Bath evokes a Zen-like, contemporary spa ambiance. This is accomplished through generous use of stone and stone-like materials, soothingly creamy walls, wood accents, highly textured glass on cabinetry, Asian-influenced accessories, and cleanly defined lines. In addition, from the overall room layout to the cabinetry details, it has been designed for optimal functionality in view of the client's day-to-day routine and very specific storage needs. Thoughtfully designed day- and nighttime lighting make grooming a pleasure, and showcase the entire space. During the day, the bath received a generous embrace of natural light from numerous windows, solar tubes and the skylight "slit" bathing the back wall of the wet room.
3D Design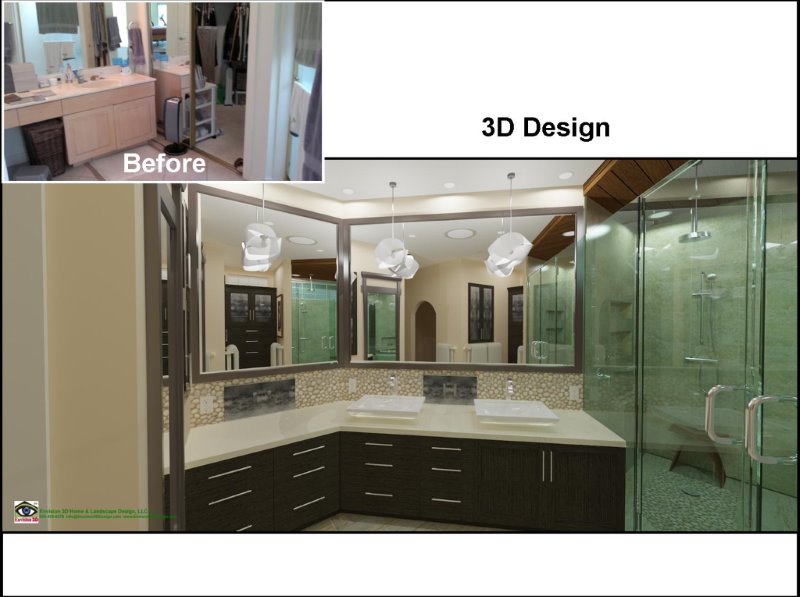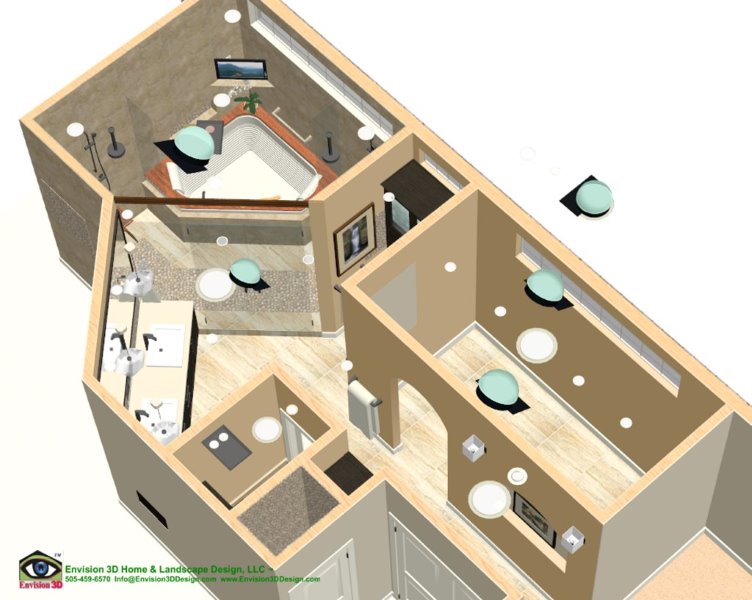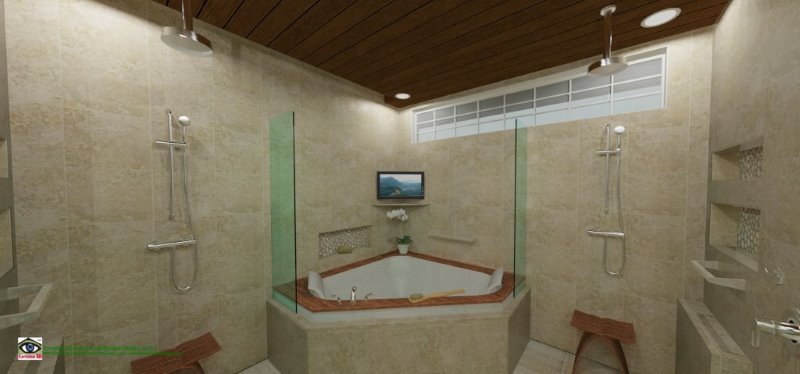 These are photo-realistic renderings
---
An Exteme Master Bath Makeover
This dysfunctional and disjoint space received a badly needed, extreme makeover. The "before" had a cramped, poorly ventilated room that housed a small shower/tub combination, the toilet and the bidet; in the adjacent space, a dated vanity with only one sink, poor lighting, and two closets with non-optimal storage functionality. After reviewing, designing, and rendering 20-some possible layouts, what emerges is an oasis-like spa bath that befits the large master suite. The new bath centers around a beautiful tub for two--a jetted, heated model with self-cleaning capability. The tub surround and vanity counters are made from easily maintained quartz that looks like real marble in a creamy golden shade (Silestone 'Caramel Rhine'). An oversized shower with sparkling glass walls is outfitted with an adjustable hand-shower, a rainfall showerhead, toiletry niches, and a teakwood bench. It is bathed in natural light during the day through a wide transom window. A generously sized vanity contains double sinks and provides storage for a dressing bench. Above the vanity, three medicine/toiletry cabinets hide behind the mirrors. Additional cabinetry includes three full-length, recessed units (two mirrored) in the main bath area and three wall cabinets in the water closet.
Before

3D Design

(These are NOT photos!)

Constructed
---
Updating a Territorial Master Bath
The goal of this project was to consider different possibilities to update this territorial Master Bath, preserving the beautiful brick floor while incorporating a new stand-alone soaker tub, and adding a semi-enclosed shower. The beautiful mountain view is supplimented with a new wall fireplace. The entire Master Bath is given a mountain spa feel, while preserving functionality and not adding any additional square footage.
Before

3D Design

(These are NOT photos!)

Constructed

(photos forthcoming)
Envision 3D Home & Landscape Design, the Envision 3D Logo and the words,"Before You Build, ENVISION It!" are trademarks of Envision 3D Home & Landscape Design , LLC. All rights reserved.
All content copyright 2011 Envision 3D, LLC. All rights reserved. RJ Engineering Web Design